Toshiba TOCP 200 Fiber Optic Cable Assembly TOCP200 Toshiba JIS F05
Toshiba TOCP 200 Fiber Optic Cable Assembly TOCP200 Toshiba JIS F05
General Details
Tech Information
Related Products
General Details
Toshiba TOCP 200 Fiber Optic Cable Assembly TOCP200 Toshiba JIS F05
Toshiba TOCP 200 Connector Product descritpion:
Toshiba TOCP series POF Products include Connector, Transmitter, Receiver for 1.0mm POF cable and HCS 200/230 Cable, F05 F07 connector as well as cable.
Toshiba products can be formed to be a completely optical system which is suitable for low-cost and certain system as optical fiber system is withstands voltage of insulation, EMI/RFI and safety.
SPECIFICATION
Core Diameter:1000 um
Wavelength Range:525 – 650 um
Fiber Core Material:Plastic
Cable Length:2 m
Connector:Toshiba TOCP 200
Core Diameter:1.0 mm
Cable Diameter:2.2 mm
Operating Temperature:-55~85 ℃
APPLICATIONS OF TOCP 200 TOSHIBA OPTICAL FIBER CABLE:
–Data transmission and industrial automation and bus systems
–Industrial robots, intelligent system and servo system
–Communication exchange systems
–Digital multimedia systems
–Medical sensing system
–Power system, etc.
–Telecommunication networks
–Local area networks (LANs)
–Data processing networks
–Wide area networks (WANs)
–Industrial, medical and military
_____________________________________________________________
KEY FEATURES
–Anti-electromagnetic interference and electromagnetic radiation
–Good flexibility, anti-vibration, ensure that in any case zero bit error rate of transmission
–High temperature and low temperature(-40 to 70)
–Easy to install, needless of maintenance
–Plastic optical fiber is not conductive, can share the power transmission pipeline
–Long-range power supply
–Accord with the Agilent universal
–RoHS Compliance
Changzhou FEV Electronics produces TOCP100, TOCP100X, TOCP150, TOCP151, TOCP 200, TOCP200Q, TOCP201Q, TOCP255, TOCP255P, TOCP255K, TOCP255PK, TOCP 200K, C08I 5, TOCP 172, JIS F05 JIS F07 Connector. Toshiba original optical fiber cable for replacement. We can produce the TOCP Optical Fiber cable from 0 to 100 Meters. TOCP Optical Fiber Cable for CNC controller. TOCP155 Toshiba, TOCP 200 Toshiba, TOCP 255 Toshiba, Toshiba Cable, Toshiba CNC, Toshiba CNC Controller, Elevator fiber optical cable, Server, Printer machine etc. Toshiba Optical Cable. Toshiba Wiring Devices.
Precautions for Operation:
(1) The maximum ratings are the limit values which should not be exceeded when using this product. All of these values must be within the defined range. If the maximum ratings, are exceeded the deviced characteristics may not be recoverable and, in extreme cases, permanent damage to the product may result. Care should be taken not to exceed the maximum ratings when using this product.
(2) Care should be taken not to drop heavy objects onto the optical fiber cables.
(3) When connecting or disconnecting the optical fiber with fiber optic connector, be sure to hold the fiber optic connector. Do not hold the optical fiber cable when connecting or disconnecting.
(4) When inserting the fiber optic connector into the fiber optic transceiving module, be sure to follow the correct fitting alignment.
(5) Keep the end face of the optical fiber with fiber optic connector clean. If contaminated, wipe it gently with tissue paper.
(6) When bending the optical fiber cable to install it, note that the recommended bending radius is six to ten times longer than the minimum bending radius.
(7) indicates the length and the unit of length of the optical fiber of the optical fiber with fiber optic connector or optical fiber products. The length of the optical fiber is the distance from one end of fiber optic connector to the other end. The minimum fiber length is 1m.

Contact Information:
Email: sales@fevelectronics.com
C.C.: fevelectronics@gmail.com
TEL: +86 177 5158 5921 (Available for WhatsApp, WeChat)
Website: https://www.tocpfibercable.com
Related Products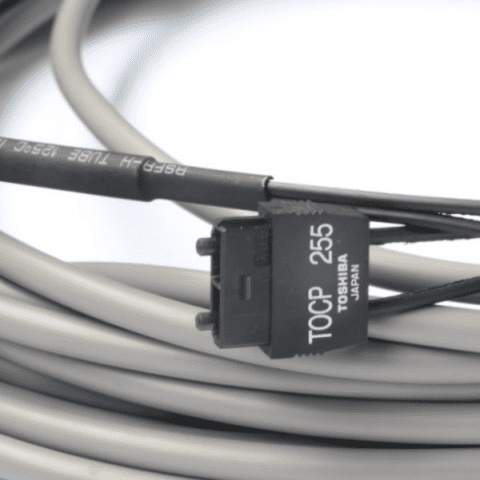 TOCP 255 TOSHIBA Fiber Optic Cable for CNC Controller, Elevator fiber optical cable, Server, Printer machine